FILAPS87
Heavy Duty Cleaner
what it's for
Highly concentrated formula, can be used diluted and undiluted.
Diluted: cleans and degreases porcelain tile, ceramic tile, natural stone, terracotta and concrete.
Undiluted: removes ground-in dirt from porcelain tile.
Safe for deep cleaning unpolished, acid sensitive stone.
Ideal for regularly cleaning of concrete.
Stripper for water-based sealers and polishing waxes.
advantages
3-in-1 solution: stain remover, cleaner and stripper.

Removes stains from porcelain tile.

Does not damage delicate surfaces.

Easy and safe to use.

Biodegradable.
ideal for
All Unpolished Natural Stone, Terracotta, Quarry Tile, Concrete, Porcelain And Ceramic Tile
How to use it
To clean porcelain tile: Dilute 1:10 – 1:20 for regular cleaning.
For heavy dirt build up, dilute 1:5.
Scrub vigorously with an abrasive pad and rinse thoroughly.To remove stains from porcelain tile:Pour FILAPS87 undiluted directly on the stain.Allow it to completely dry (20-60 minutes), then scrub vigorously with an abrasive pad.Rinse thoroughly.To clean unpolished natural stone:Dilute 1:10 when used on matte honed and natural finish stone.
Please note
FILAPS87 will dull the finish of polished or highly honed natural stones. To strip wax: Dilute 1:5. Let sit for 15 minutes, then scrub and rinse. Caution: Do not use on polished stone, wood or acrylic tubs.
coverage
(1 GAL - 3.78 L)
Porcelain ›

Dilution 1:5 ›

1,630 sq.ft. (151 m2)

Maintenance ›

Dilution 1:20 ›

8,150 sq.ft. (757 m2)

Wax stripper ›

Dilution 1:5 ›

815 sq.ft. (76 m2)
Container Size
1 gallon flask, 3 pieces per carton
1 quart flask, 5 pieces per carton
before and after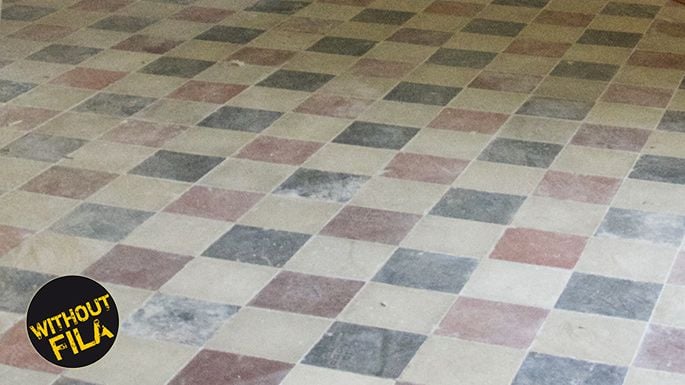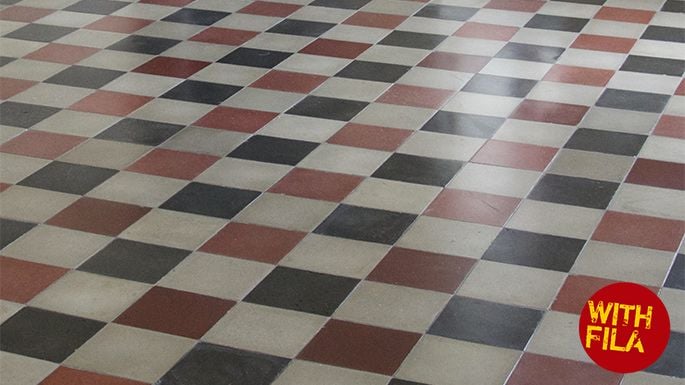 Find a Fila reseller
Find your nearest Fila reseller by entering your address or the product you are looking for.
Request information
(*) required fields