FILA ACADEMY-UDDANNELSESKURSER
I over 35 år har vi spillet en vigtig rolle i uddannelsen af vores detailkunder, af påføringsspecialister, af salgspersonalet hos producenterne af materialer til gulve og beklædninger, af arkitekter, designere og fagfolk i branchen.
Specialiseringskurser til at forbedre dine tekniske og forretningsmæssige færdigheder
FILA ACADEMY-kurser er en fantastisk mulighed for at udvikle din viden om FILA-løsninger, uanset om du vil forbedre dine salgsevner eller maksimere systemernes effektivitet gennem korrekt anvendelse. Uddannelseskurserne holdes i undervisningslokalerne hos FILA ACADEMY eller hos vores kunders salgssteder, efter aftale med dit områdes salgsansvarlige.

FILA ACADEMY har to fuldt udstyrede undervisningslokaler med god plads til de praktiske prøver. Kurserne afholdes af højt kvalificeret specialiseret personale gennem en etableret metode og i løbende udvikling med hensyn til markedsudviklingen, både hvad angår materialer og teknologier til behandling og pleje af overflader.
Uddannelsesdagen er opdelt i to dele: En første del, der er praktisk, for at lære påføringsmaterialerne og de forskellige behandlinger at kende, afsluttes med en teoridel for at lære de mest effektive måder at sælge FILA-systemer på.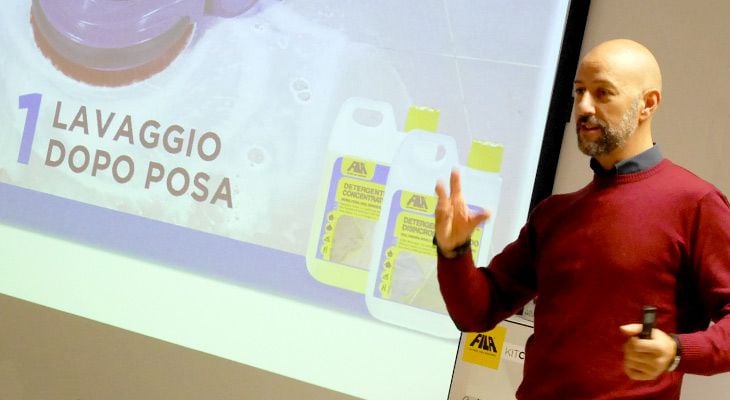 Hvorfor deltage i FILA-kurser?
Fordi FILA anbefales af de bedste producenter af materialer til gulve og vægge;
Fordi FILA-systemerne fuldstændiggør og forbedrer gulv-/vægbeklædningssystemet;
Fordi FILA-systemerne hjælper afgørende til at forhindre eventuelle klager på byggepladser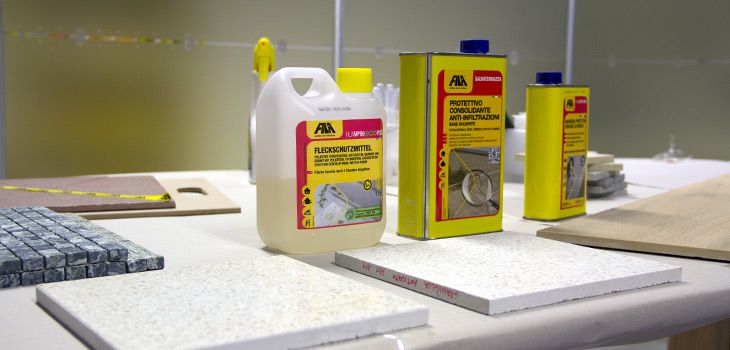 TEKNISK SPECIALISERINGSKURSUS
Kendskab til behandlingsfaserne og -cyklusserne for at tilfredsstille slutkunden
Hvem er det henvendt til?
Til påføringsspecialister, behandlingsspecialister og teknisk salgspersonale med fokus på FILA-behandlingssystemerne.

MÅL
At kende FILA-systemerne i forbindelse med de forskellige påføringsmaterialer, for at præsentere dem i deres bedste lys.
At kende metoderne til løsning og forebyggelse af de største problemer med gulv- og vægbeklædningsmaterialer.
At øge fagligheden hos påføringsspecialisterne og yde en bedre service for slutkunden.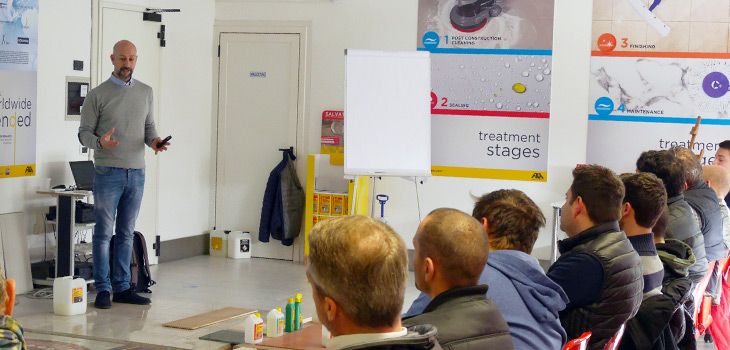 TEKNISK SALGKURSUS
Forbedring af detailhandlen gennem aktivt salg af FILA-produkterne
Hvem er det henvendt til?
Til salgsfolk for farvehandlere, farvehandlere-isenkræmmere, "gør-det-selv"-butikker, byggemarkeder og gulv- og vægbeklædningsforretninger, med særligt fokus på aktivt salg til sidstnævnte.

MÅL
At udvikle detailhandlernes forretning gennem aktivt salg af FILA-løsninger.
At kende vigtigheden af salg af FILA-produkter for at tilbyde en bedre service til slutkunden.
At kende metoderne til løsning og forebyggelse af de største problemer med materialerne.