Estudios de casos
Stone & Ceramic elige FILA para el DEVONSHIRE CLUB de Londres
15/03/2017
Los tratamientos de protección de FILA Green Line -la línea de productos FILA Surface Care Solutions de bajo impacto medioambiental- han sido elegidos por Stone & Ceramic, especialista en piedra natural y cerámica para proyectos residenciales y comerciales de lujo, para el Devonshire Club, uno de los círculos privados más exclusivos de la capital anglosajona.
Situado en la zona de Liverpool Street, el Club es uno de los destinos londinenses más populares gracias a la dirección del célebre industrial y CEO Brian Clivaz.
La nueva sede, situada en la City, ocupa seis pisos de un ex-almacén del siglo XVIII de East India Company y un gran edificio georgiano que fue objeto de una reforma de 25 millones de libras esterlinas.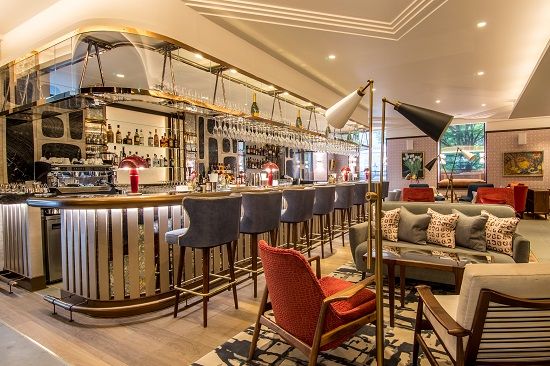 Los motivos de la obra
La reforma de los aproximadamente 5.400 m2 fue proyectada y gestionada por SUSD, sociedad de asesoramiento para el desarrollo creativo en el sector inmobiliario, con interiores pensados por March & White.
Stone & Ceramic colocó las barras a medida del bar, las paredes y los pavimentos de granito pulido de The Stone Collection y las baldosas firmadas por Porcelanosa. En el interior del bar principal y del "Barman's Bar" el granito negro belga y el "Negro Absoluto" de The Stone Collection se cortaron a medida para realizar barras con una superficie única y para crear una espléndida pared. El pavimento es de gres porcelánico Vero Beige de Grestec Tile. En el área de servicio se colocó mármol pulido de Carrara. Para las paredes y los pavimentos en las salas relax se utilizó piedra natural Travertino Silver Wood de L'Antic Colonial de Porcelanosa y Kenya Black de The Stone Collection.
Proyectada para enaltecer el prestigio del club, la obra dio prioridad a la elección de materiales naturales y de artesanado fino: esta refinada combinación se refleja en el lujoso interior, incluidos los exclusivos bares del club y las elegantes salas relax revestidas con materiales Stone & Ceramic y tratadas con soluciones Fila.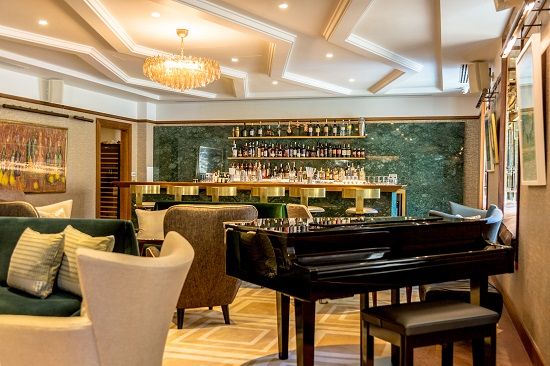 La obra
Todas las superficies se pulieron y protegieron con tratamientos certificados para la seguridad alimentaria de la línea FILA, como FILACLEANER y el protector antimancha a base de agua FILAMP90 ECO PLUS.
El detergente neutro universal FILACLEANER se utilizó para una limpieza final de obra eficaz y segura, y en lo sucesivo para el mantenimiento ordinario.
A todo el granito se aplicó el antimancha FILAMP90 ECO PLUS, que asegura una excelente protección a largo plazo sin alterar la extraordinaria estética de las elegantes superficies.
"En este prestigioso trabajo –explica Nicola Brunello, Technical Assistance & Training Manager FILA– el protector antimancha FILAMP90 ECO PLUS ha podido expresar sus características técnicas y prestacionales. La exigencia de utilizar un producto sostenible, la certificación EC1+ que da fe de las bajas emisiones de COV y la certificación Food Contact, necesaria para las superficies en contacto con alimentos, han sido determinantes para la elección de este antimancha tecnológicamente avanzado. No menos importante es la velocidad de aplicación y puesta en obra del protector, que después de sólo 4 horas permite el tránsito sobre la superficie: ventaja apreciada en las obras donde los tiempos de realización cuentan".