Case History
Stone & Ceramic wählt FILA für den DEVONSHIRE CLUB in London
15/03/2017
Die Schutzbehandlungen der FILA Green Line – die Produktlinie FILA Surface Care Solutions mit reduzierten Umweltauswirkungen – wurden von Stone & Ceramic, einem Naturstein- und Keramikexperten für Luxusprojekte im Wohn- und Gewerbebereich, für den Devonshire Club gewählt, einen der exklusivsten Privatclubs der Hauptstadt Großbritanniens.
Der in der Nähe der Liverpool Street gelegene Club ist eines der beliebtesten Ziele Londons, nicht zuletzt dank der Leitung des berühmten Industriellen und CEO Brian Clivaz.
Der in der City gelegene neue Sitz erstreckt sich über sechs Stockwerke eines ehemaligen Lagers der East India Company aus dem 18. Jahrhundert und umfasst ferner ein großes Gebäude aus der Georgianischen Zeit, das für 25 Millionen Pfund renoviert wurde.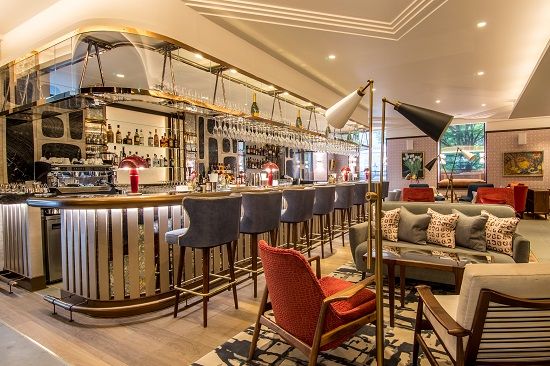 Die Gründe für die Arbeiten
Die Renovierung der rund 5.400 m² großen Räumlichkeiten wurde von der SUSD geplant und geleitet, einem Beratungsunternehmen für die kreative Entwicklung in der Immobilienbranche. Die Innenausstattung wurde von March & White entworfen.
Stone & Ceramics hat an den maßgefertigten Theken der Bar, den Wänden und Böden polierten Granit von The Stone Collection und Fliesen von Porcelanosa verlegt. In der Hauptbar und der 'Barman's Bar' wurden der belgische schwarze Granit und der 'Nero assoluto' von The Stone Collection nach Maß zugeschnitten, um Theken mit einer durchgehenden Fläche und eine herrliche Wand zu realisieren. Für den Boden wurde Feinsteinzeug 'Vero Beige' von Grestec Tile verlegt, während für den gesamten Servicebereich geschliffener Carrara-Marmor verwendet wurde. Für die Wände und Böden in den Relax-Räumen wurde der Naturstein Travertin Silver Wood von L'Antic Colonial von Porcelanosa und Kenya Black von The Stone Collection gewählt.
Bei den Arbeiten, deren Absicht darin bestand, das Prestige des Klubs zu betonen, wurden natürliche Materialien und hochwertiges Handwerk bevorzugt: diese erlesene Kombination spiegelt sich im gesamten luxuriösen Innenbereich wider, einschließlich der exklusiven Bars und der eleganten Relax-Räume, die mit Stone & Ceramic Materialien verkleidet und mit FILA-Lösungen behandelt wurden.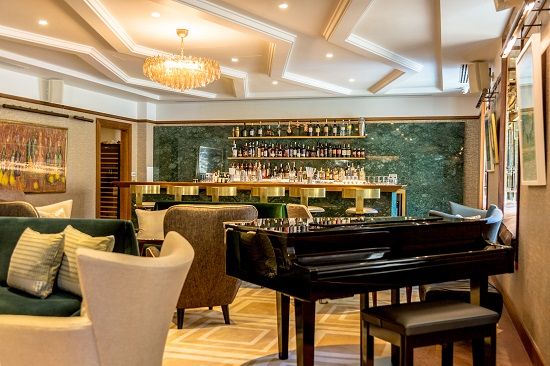 Die Behandlung
Alle Oberflächen wurden mit für den Lebensmittelkontakt zertifizierten Produkten der FILA-Linie gereinigt und geschützt, zu denen FILACLEANER und das Fleckenschutzmittel auf Wasserbasis FILAMP90 ECO PLUS zählen
Der neutrale Universalreiniger CLEANER PRO wurde für eine wirksame und sichere Erstreinigung nach dem Verlegen und anschließend für die herkömmliche Unterhaltspflege verwendet.
Dann wurde auf dem gesamten Granit das Fleckenschutzmittel MP90 ECO XTREME aufgebracht, das eine hervorragende langfristige Schutzwirkung bietet, ohne die außergewöhnliche Optik der eleganten Oberflächen zu beeinträchtigen.
"Bei diesen prestigeträchtigen Arbeiten – erklärt Nicola Brunello, Technical Assistance & Training Manager von FILA – konnte das Fleckenschutzmittel MP90 ECO XTREME seine technischen Eigenschaften und Leistungsmerkmale unter Beweis stellen. Die Notwendigkeit, ein umweltfreundliches Produkt anzuwenden, die EC1+ Zertifizierung als Garantie für besonders niedrige VOC-Emissionen und die Food Contact-Zertifizierung, die für Oberflächen mit Lebensmittelkontakt notwendig ist, waren für die Wahl dieses technologisch hochentwickelten Fleckenschutzmittels ausschlaggebend. Ebenso wichtig waren die kurze Anwendungsdauer und die rasche Realisierung des Schutzeffektes, der ein Begehen der Oberfläche bereits nach 4 Stunden ermöglicht, was bei Baustellen, bei denen die Ausführungsdauer wichtig ist, nicht selbstverständlich ist."