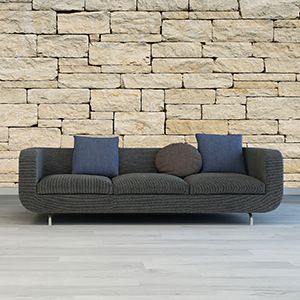 Exposed natural stone walls can release dust. In other words, they are subject to what is generally called flaking. 
To prevent flaking of an interior wall, you can apply a natural effect wax like MATT Matte Finish Protective Wax. Dilute MATT 1:30, adding 10 oz. of water  to a gallon of wax. Apply the diluted product with a clean cloth or lambswool applicator and let dry for about an hour. Apply a second coat perpendicular to the first. 
MATT gives the surface a durable, low sheen, natural finish. It also prevents dust from settling and staining natural stone, making routine cleaning much easier.