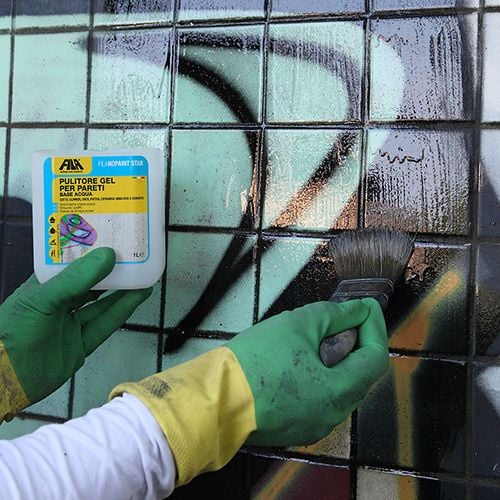 To remove graffiti and paint from porcelain or ceramic tile surfaces, use NOPAINT STAR Sealer Stripper and Paint Remover.
Due to its gel-like consistency, NOPAINT STAR is easy to apply, even on walls. It not only removes graffiti and paint, but cleans exterior walls damaged by smog and dust.
How to use NOPAINT STAR 
NOPAINT STAR is ready to use; simply apply the undiluted product directly on the surface with a flat brush or with an airless sprayer. Let sit for at least 5 minutes, then scrub with an abrasive pad. Rinse thoroughly. For best results, rinse with a pressure washer. 
Alternatively, apply PS87 PRO Heavy Duty Cleaner diluted 1:5, following the instructions above.