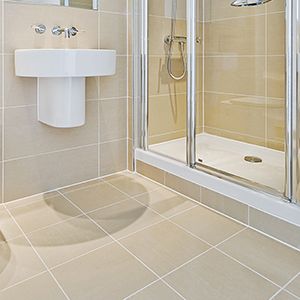 Limescale is a nightmare for anyone cleaning a bathroom. Lime deposits and hard water stains form easily on ceramic sinks, bathtubs and toilets. Let's see how to completely eliminate limescale from porcelain and ceramic tile. 
For heavy limescale buildup, use DETERDEK Grout Haze Remover in the appropriate dilution.  First, wet the surface with water, then apply the solution to sections of a few square feet at a time. Let sit a few minutes, then rub vigorously with an abrasive pad or large brush. Remove the residue with a cloth or wet vac and rinse with plenty of water. Refer to the product label for detailed application instructions.
THE EXPERT'S ADVICE:
To prevent limescale, use NO DROPS Shower Clean and Shield. Ideal for shower stalls, glass mosaics, ceramic and porcelain tile, mirrors and bathroom fixtures, NO DROPS cleans and protects surfaces – water sheets off without beading and leaves no hard water spots. It is perfect for the everyday cleaning of faucets, stainless steel, glass, plexiglass and plastic.