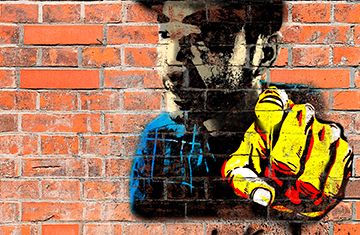 Removing graffiti from brick walls
 
A brick wall is very porous, making it difficult to clean off scrawls, graffiti and paint. To make cleaning easier, FILA has created PROSTRIP Sealer Stripper and Paint Remover.
PROSTRIP is a highly effective and quick acting water based paint remover which is easy to use due to its gel-like consistency. It removes scrawls from treated and untreated walls in a few minutes and is especially suited for rough and porous surfaces (concrete walls, exposed brick and natural stone). 
Apply PROSTRIP undiluted directly to the wall with a flat brush or airless sprayer. Let sit for 5 minutes, then scrub with an abrasive pad. Rinse thoroughly. For best results, rinse with a pressure washer. 
Alternatively, apply PS87 Heavy Duty Cleaner diluted 1:5, following the instructions above.
You can then complete the stain protection treatment with the product most suited to your type of surface.