The FILA Research Centre
Experience gained in years of work, in-depth knowledge of materials, research in the lab and directly on site: these are just some of our main strong points, thanks to which we have over time achieved excellence in protection and care of all surfaces (marble, natural stone, porcelain tiles, terracotta, glass and wood).

Every year we invest approximately 10% of our annual turnover in R&D with the aim of creating high-performance solutions that are in line with market needs, eco-friendly and with high coverage.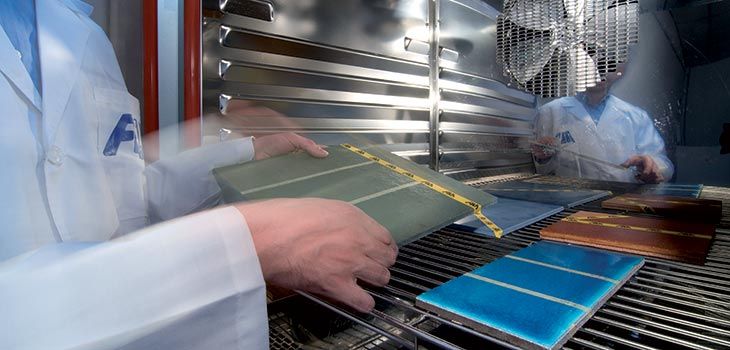 KNOWLEDGE OF MATERIAL
In collaboration with Italian and international research institutes, in our FILA Research Centre we analyse and study every kind of material on the market or under development by manufacturers.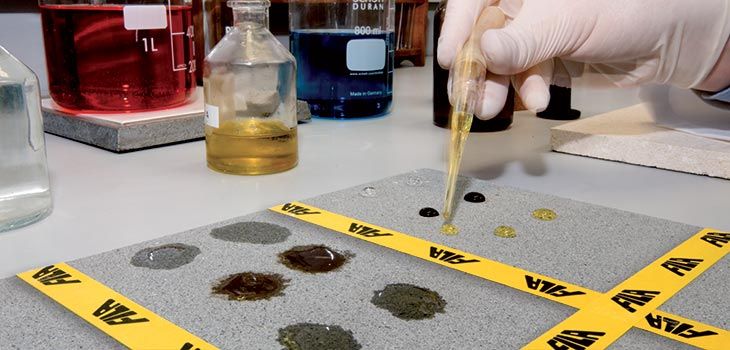 NEW FORMULAS
Our R&D team develops 20 or so projects every year, a third of which are products then put onto the market. The rest are improvements to existing technologies or pure research for creating the bases for new solutions.
Thanks to modern instrumentation and technical knowhow, in our Research Centre:
We carry out analysis and studies of all the different kinds of material

We select the best raw materials and suppliers

We experiment new solutions and products every day

We test new products, not only in the lab but also in the field. Our products are also tested and certified by the most important international institutes.

We carry out 2,500 quality controls every year on 1,000 production batches. Fila is also UNI EN ISO 9001:2015 e ISO 14001:2015 certified.

We offer continual technical assistance via e-mail, social networks, telephone and on-site inspections all over the world. In a year, our Research Centre team answers around 4000 e-mails and 5000 phone calls.

CERTIFICATION
Fila products are certified by international institutes. Certifications in use for our products include:
Suitability for contact with foodstuffs;
Frost resistance;
Stain resistance measurement;
Resistance to abrasion, pull-off, traction, UV ageing, skidding
Anti-mould products;
LEED certification, in other words the Green Building Rating System;