FILASERVICE: a single contact on site
TURNKEY SERVICE FOR LARGE PROJECTS
Are you working on an important project and looking for a professional contact who can enhance the materials you have chosen? Someone able to identify the best surface treatment systems to preserve the beauty and prestige of your work over time?
FILASERVICE can provide you with a single contact, responsible for managing the project from the feasibility study to the maintenance programme via product application.
The 5 phases of FILA service
FILASERVICE provides a complete service to meet site needs, thanks to:
Identification of specific treatment systems
Technical consultancy and feasibility details
Identification of the best professional and management of start up
Constant supervision of FILA technicians with an onsite technical assistance programme
Identification of Preventive Maintenance Plans (PMP)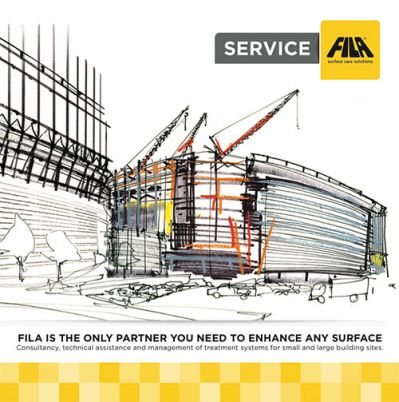 Site completion assistance and cleaning
Correct cleaning immediately after installing ceramic tiles is fundamental for preserving the aesthetic characteristics of the material and the performance of the tiles. Removing all residues of concrete, glue, grout, plaster and other kinds of dirt fact makes ordinary maintenance easier.
Fila can organise a professional service thanks to its specific detergents and specialist technicians. From laboratory tests on materials to on-site inspections, from cleaning tests on mock-ups to the use of specific machinery, FILA ensures a high specialised technical service, even at night and on holidays.
PRO CLEAN SERVICE

PRO CLEAN SERVICE is the service by Atlas Concorde and Fila that provides clients with assistance and cleaning on site completion.
Ideal for indoor and outdoor surfaces measuring more than 500 m², this service is dedicated to planners, contractors and retailers and available in 17 countries worldwide: Arab Emirates, Austria, Canada, Czech Republic, Estonia, France, Germany, Italy, Lithuania, Latvia, Netherlands, Poland, Russia, Spain, Switzerland, U.K. and U.S.A.
For more info and to request the service, go to the Atlas Concorde PRO CLEAN SERVICE website