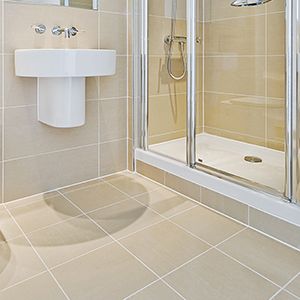 Scale is Public Enemy Number One for anyone cleaning a bathroom. Stains and encrustations of scale form easily on floor tiles and sanitary ware in ceramic. Let's see how to clean porcelain tile and ceramic and eliminate every trace of scale.

In the case of obstinate encrustations, use DETERDEK PRO acid detergent in the appropriate dilution, scrub the surface and rinse thoroughly. Refer to the label for detailed instructions.

Scale stains and residue can be removed with VIA BAGNO* descaler spray, which deep cleans all bathroom surfaces and makes them shine like new.
 
THE EXPERT'S ADVICE:
To prevent scale, use NO DROPS* the water mark repellent protective detergent, ideal for all glass, mirrors, glazed ceramic and glass mosaic which – once applied – makes the water roll off without leaving any water marks and thus makes the use of further descaling agents unnecessary. It is ideal for shower cabinets, and can be used for routine cleaning of taps and steel and plexiglass accessories.
*check product availability in your market​