PS87 PRO
PROFESSIONAL DEGREASING CLEANING AGENT
what's it for
When diluted, it cleans and removes grease from dirty floors in porcelain tiles, ceramics, natural stone, terracotta and concrete.
When undiluted, it removes stubborn stains from porcelain floor tiles.
Excellent for basic cleaning of natural stones that are sensitive to acids.
Ideal for basic cleaning of concrete surfaces.
Wax-remover for water-based, metallic and re-polishable waxes.
Eliminates pre-treatment residues from polished porcelain tiles.
advantages
Biodegradable

A 3-in-one product: cleaner, stain-remover, wax-remover.

The only one that can eliminate stubborn stains from porcelain tiles.

It cleans but does not attack.

Extremely easy to use.
ideal for
Porcelain Tiles
Unpolished Stone And Agglomerates
Glazed Ceramic Tiles
Concrete
Linoleum And Pvc
Terracotta
Quarry Tiles
before and after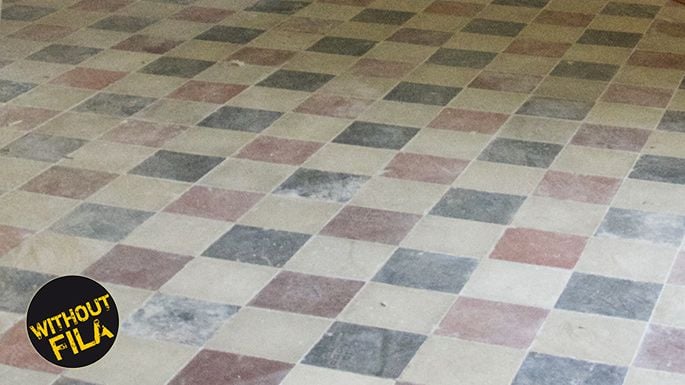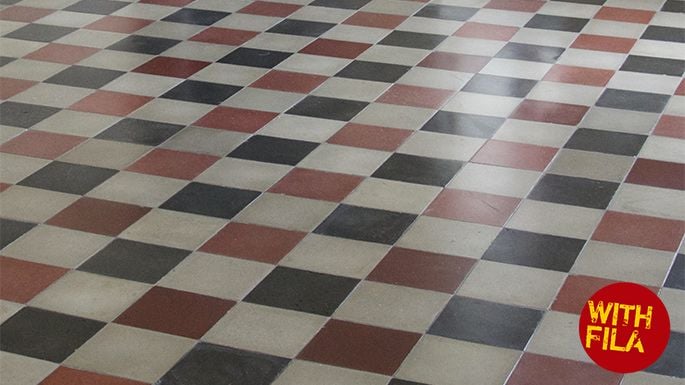 Method of use
Dilution: according to use
For cleaning and degreasing all surfaces.
Dilute in water (1:10-1:20) and apply on the surface. Leave to act for 4-5 minutes before brushing with a single-disc floor scrubber or scrubbing brush. Use a cloth or liquid vacuum cleaner to clean any residues and then rinse thoroughly.For a more vigorous cleaning, dilute 1:5.To remove stains from porcelain tiles:Pour undiluted onto the stain and the entire tile. Leave to act until fully dry, then wash and rinse the surface.To remove wax:Dilute 1:5, apply on the surface and leave to act for 10 minutes. Clean using a scrubbing brush or single-disc floor scrubber. Use a cloth or liquid vacuum cleaner to clean any residues and then rinse thoroughly.
Please note
1. Do not use on new marble or polished stone. 2. Do not use on wood. 3. Do not use on methacrylate tubs. 4. Linoleum: carry out a spot test beforehand to check colour fastness.
coverage
APPROXIMATE COVERAGE AND DILUTION (1 litre):
Maintenance 1:20

200 m2

Wax removal 1:5

20 m2

Initial stone wash 1:5

30 m2
formats
5-litre cans in boxes of 4
1 litre cans in boxes of 12
Find a Fila outlet
Find your nearest Fila outlet by entering your address or the product you are looking for.
Request information
(*) obligatory fields