The product you are viewing is not available in your country
SALVATERRAZZA
THE ANTI-SEEPAGE BREATHABLE CONSOLIDATING AGENT
what's it for
Protects terracotta, quarry tiles, porcelain tiles, concrete and natural stone from water and damp.
Penetrates into materials strengthening the surface.
Removes any water seepage problem.
Prevents water seepage, and formation of mould and efflorescence and consequently any serious structural issues.
Protects grout joints.
Penetrates into small cracks (from 0.5 µm to 1 mm) making them water repellent.
advantages
It does not form surface film and allows treated materials to breathe.

Easy to use because it is ready to apply.

Does not yellow with ageing or with any environmental condition.

Provides high coverage.
ideal for
Porcelain Tiles
Marble And Stone
Agglomerates
Concrete
Tuff
Terracotta
Quarry Tiles
before and after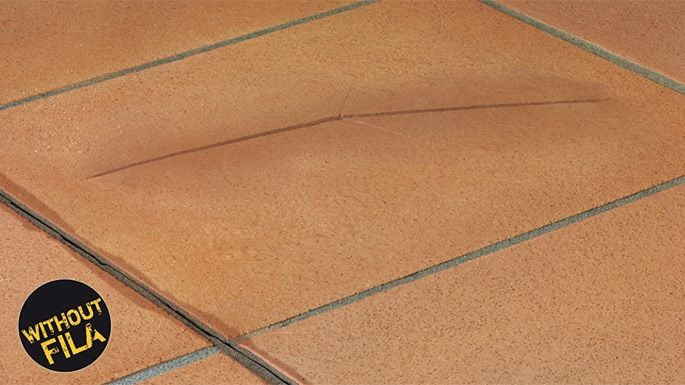 Method of use
No dilution required: ready to use.
Application:
On a dry and clean surface (for deep cleaning, use the FASE ZERO detergent), apply SALVATERRAZZA evenly on the entire surface using a fleece pad or a different application method, taking care to impregnate the gaps and fissures thoroughly.Before the product dries (within 10 minutes), remove any residues by dabbing the surface with a clean cloth, being careful not to leave any traces of the product. Applying an abundant amount of product does not improve its performance.On absorbent materials such as natural stone, agglomerates, concrete and bricks, apply two coats of the product with an 8-hour interval in between, following the above-mentioned instructions. To speed up the process, the surface can be treated with a single-disc floor scrubber.The surface can be walked on after 8 hours.The protection takes effect after 24 hours.Maintenance:use a diluted solution of CLEANER PRO.
Please note
The product may brighten the material, so we recommend testing its reaction beforehand on a small area. Do not apply the product externally if rain is forecast. Does not protect against acidic aggression.
coverage
APPROXIMATE COVERAGE (1 litre):
Terracotta, Stone

10/15 m2

Porcelain tiles, Quarry tiles

30 m2
formats
5-litre cans in boxes of 4
1 litre cans in boxes of 12
Find a Fila outlet
Find your nearest Fila outlet by entering your address or the product you are looking for.
Request information
(*) obligatory fields