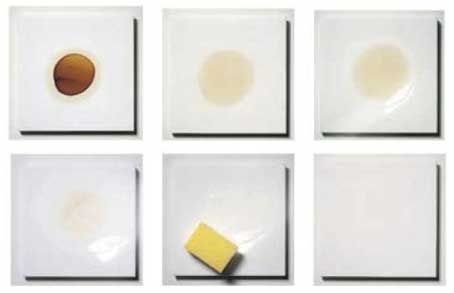 To remove coloured stains (coffee, wine, fruit juice, hair dye, ink, felt tip pens, etc.) from porcelain and ceramic surfaces, you can use SR95 stain remover.

SR95 completely removes stains which normal cleaning agents have no effect on. It is specifically designed for removing stains on natural stone (marble, travertine, agglomerate) and can also be used on polished stone without affecting its finish. it is also ideally suited for cleaning low absorption ceramic surfaces like porcelain and single-fired tiles with a rough surface.

Removing stains with SR95:
Pour the product directly onto the stain, leave it to act for around 15 minutes, then remove the residue with a damp sponge and rinse with water. If necessary, repeat the treatment.
Alternatively, use PS87 PRO undiluted and leave it to act until it is completely dry. Then wash and rinse off the surface.
*check product availability in your market​