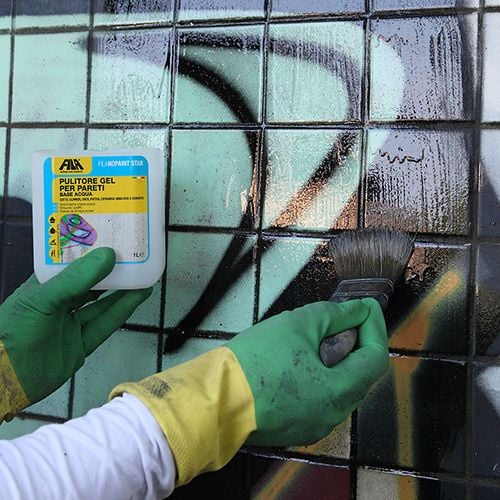 To remove graffiti and paint from porcelain or ceramic surfaces, use the special FILANOPAINT STAR gel cleaner.

Due to its viscous formulation, FILANOPAINT STAR is easy to apply even on walls. It not only removes graffiti and paint, but cleans outer walls damaged by smog and dust.
 
How to use FILANOPAINT STAR
FILANOPAINT STAR is supplied ready to use; simply apply the undiluted product directly onto the surface with a brush or using the airless method. Leave it to act for at least 5 minutes. Then rub over with a rough cloth or sponge and rinse off. For best results, use a water jet cleaner on walls or floor scrubber on floors.
Alternatively, use FILAPS87 diluted 1:5 in the same way.